LATEST NEWS! 15 APRIL 2015

Finally we have an updated playlist featuring most ov our new releases!
Look for the YouTube window further down on this page.

DISTRO LIST PAGE COMING SOMETIME!
As we said, we have a fuck-ton ov traded CDs to launch on a distro list.
One day it will happen! (Looking at them now!)
Until then you are welcome to email if interested! (xanataph@gmail.com)
About Satanica
Satanica was originally just a title add to our band's (Beltane) releases, from 1999 in fact. Since producing over 20 Beltane CD releases plus running Satanica for well over four years we know that we have created a good system for getting music on CD out there, so now we're working with many other bands who would like to have their CD releases handled for them & get a good return on each unit sold. Unlike many other small labels whenever a band sells a CD they actually get paid a fair amount. Our system is innovative and has kept us going since launching properly in 2009! So many others have come and gone in this time! Plus we have customers who have been with us since the early days!

Satanica has over 350 titles ov release from over 270 bands, so there is sure to be something you like here!

So if you are a music buyer, remember that since the bands get paid, purchasing from Satanica is directly supporting our bands in a very real way. Everyone talks the talk about "supporting the underground", well now here's your chance to walk the walk! The deals our bands get on Satanica are set at precisely the level our own band would expect/hope to get from other labels!

The Nine Satanica Statements
* All releases (excluding the DVD case style) come supplied in a choice ov:

Slimline Case artwork with case supplied or Full-sized Jewel Case art, shipped without case

* We will contact you by email to confirm your order and preferred artwork style (see above).

The default will be the Full-sized Jewel Case Art if we do not hear back from you.

* Unless otherwise noted all CD prices are $16NZD for EP/MCD length & $20NZD for album length plus s&h.
* Some specially selected CDs are $12NZD plus s&h.

* For CD releases our shipping price is currently 1 cent, so that's basically free!

* Important: The prices are in NEW ZEALAND DOLLARS, not USD. Which means they are less expensive than they look!!

* All purchasers ov Satanica's releases receive a virtual "Loyalty Card". Buy 5 releases (excludes certain special offers) and get one FREE!!
The free choice includes any conventional Album or EP release only.

* Upcoming Releases are now listed on Satanica's Facebook page. Click this text.
*BANDS: If you would like your band/project to be released by Satanica, go to this page http://www.satanica.org/joinus.php
NEW RELEASES
These will be displayed on the front page for at least a month. Click on the release dates to go to genre page.
Use the Youtube Playlist here to preview recent Satanica releases.
You can also listen to older ones still on the Soundclick Player below.

If we have not yet placed a song here from the band you are interested in you are welcome to email us at xanataph@gmail.com & we'll send you a sample track!
Current Satanica Feature
SOUNDS OF VENGEANCE


OUR GENERAL AND ONGOING FREE BONUS

THE SPECIAL EDITION OV THE 'MOST UNHOLY CONVERGENCE II'
Yes, that's friggin' right. With ALL retail purchases you'll receive the Special Edition version ov the
'Most Unholy Convergence II' Uber-Compilation absolutely free!
This will be replaced by the Most Unholy Convergence III S.E. when it is released later in the year.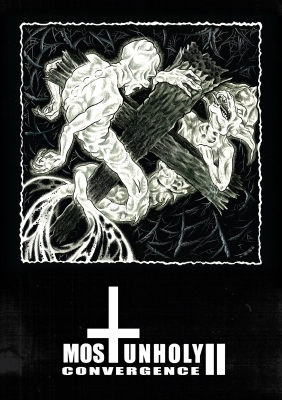 This applies to all retail orders except certain Uber Offers.
Return customers will be offered the choice ov extra MUC II S.E. copies or other freebies!