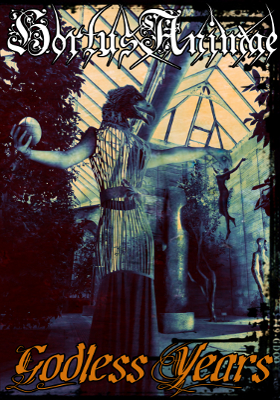 24 Track, 2 Disc Set in DVD style case.

"Godless Years" Review by Dark City (translated)

Contemporarily with the new album, Hortus Animae released a retrospective collection of their works. Two discs with previously unreleased demos, singles, outtakes and a 2002 concert. The first disc contains two tracks that didn't enter the new album "Secular Music" – cover versions of the bands Entity and Baratro (which sound as classic Hortus Animae, with the amplitude of keys and leading violin), 2004's promo single with Liv Kristine (Theatre of Tragedy, Leave's Eyes) on vocals and 2002's demo versions of the album "Waltzing Mephisto". Everything has been compiled so that it is listenable as one entire album and this is the big plus of this compilation. The second disc begins with the live versions – maybe the only one available: Hortus Animae for different reasons were more a studio project, that is why it will be very cognitive to listen how they played live. The recording quality is that of a good bootleg; everything restored by the Italian sound engineer Simone Mularoni – enough to have a general idea. A very rare demo of 1998, made up of five tracks, recorded by the first line up of the band, closes the disc. This beautifully composed compilation allows us to hear how the band developed during many years and that undoubtedly will be interesting for all the fans.